Our support for research in a few words
As both an intellectual and a collector, Martin Bodmer saw research as something of major importance. In 1954 he published the text of Homer's Iliad contained on the very first papyrus he had acquired, providing access to documents in his collection in order to make the work of researchers that much easier. Carrying on in this tradition, each year the Foundation answers several hundred requests for information, reproductions, or permission to consult documents in its care. Such work often results in publications. The Foundation also encourages research through its own publications policy, by its facsimile editions and monographs, or the catalogues detailing its collections, along with the catalogues accompanying a range of exhibitions over the years. Lecture series and university conferences are also regularly held in the Foundation.
Please note: the Foundation is not able to provide financial assistance for research projects.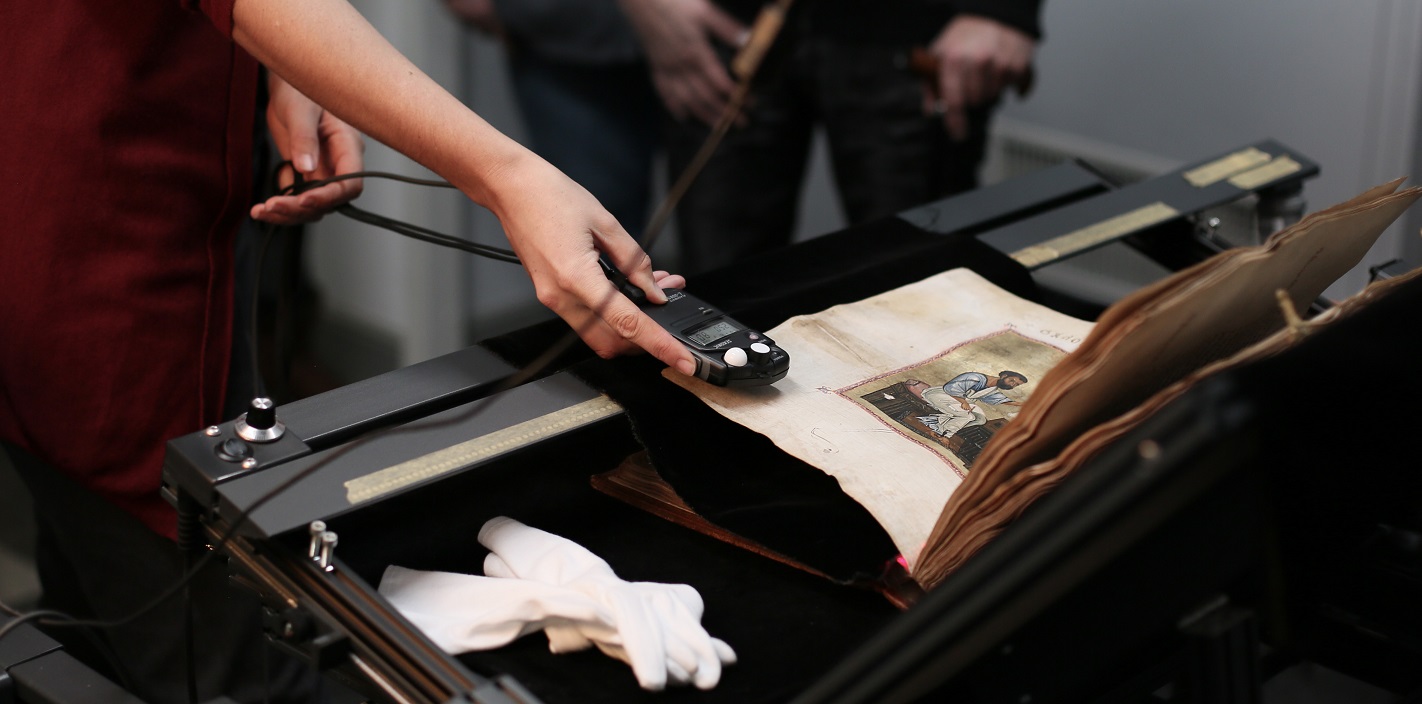 Consultations
The Foundation welcomes researchers for in-house consultations (when the project justified a physic consultation) year-round. Contact: info@fondationbodmer.ch
A valid request allows for a two-month notice minimum to ensure our teams can welcome you in the best conditions. Please do not make any travel arrangements until your access request has been approved.
For conservation reasons, we do not authorize physical access to papyri, codice and incunable collections anymore (save exceptional, scientifically backed reasons). Fortunately, most works are entirely scanned in very high definition and available free of charge. Databases for consultation:
Digital reproductions
Our technical staff and reproduction lab will be happy to assist you. Please address all your requests for reproductions to info@fondationbodmer.ch.
Rates and terms

Reproduction

This pricing does not apply to already digitized documents.
Copyright
Scholarly publication : free
Commercial publication : 200 CHF
For all specific requests (publication cover, tie-in products, etc.), please contact info@fondationbodmer.ch
Open-Access images

For all open-access images obtained from sites such as e-codices, the copyrights in force remain the same. Moreover, even in the case of scholarly publications, we request at a minimum that you provide one copy of the work/object for our records (or a URL/PDF link), and include the following acknowledgment, "The Martin Bodmer Foundation, Cologny (Geneva)."